This blog post has been shared from the Blog of Good Return.
She is building the way so others can grow
Being an Indigenous woman entrepreneur in Australia is often not an easy path. Historical and gendered inequalities, and a lack of access to resources, education and training has made it difficult for Indigenous women entrepreneurs to participate in the economy and build financial security.
Good Return is working with partners in the Kimberley region to unlock the capacity, capability and potential that already sits inside Indigenous women. Our collaboration builds the skills and knowledge of emerging Indigenous business women and helps them to create wealth and sustainable businesses. Our partners and local team, which includes Indigenous leaders in business, understand the importance of working through a trauma-informed lens.

This end of financial year, we are calling fellow champions of Indigenous women's entrepreneurship to support and donate to a network of strong business leaders working to empower a new generation of Indigenous businesses to flourish.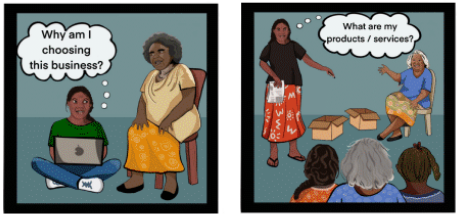 The progress so far
In 2021, Good Return collaborated with Kimberley Jiyigas and the Menzies Foundation to establish a business club in the Kimberley region called the Maganda Makers. Founded on a deep respect for Indigenous culture, the voices of Indigenous women drive the development and implementation of the club.  They are a community for aspiring, emerging and established Kimberley Indigenous women in business.
Our partners and local team brings to the club their expertise in skill-building for entrepreneurs. The club provides wrap-around business support, including strategy, financial, legal, human resources/operations and marketing.  In March 2022, the club welcomed its 100th member.
We need your help
Now the club is established, we need funding for its 'business builder navigators' – a group of senior Indigenous business women who will guide, nurture and upskill emerging Kimberley women entrepreneurs.
These mentors need to travel over 4000 square kilometres to reach our business club members. Your funding will help support their work, travel and development and sharing of vital business skills resources and materials.